Green Campus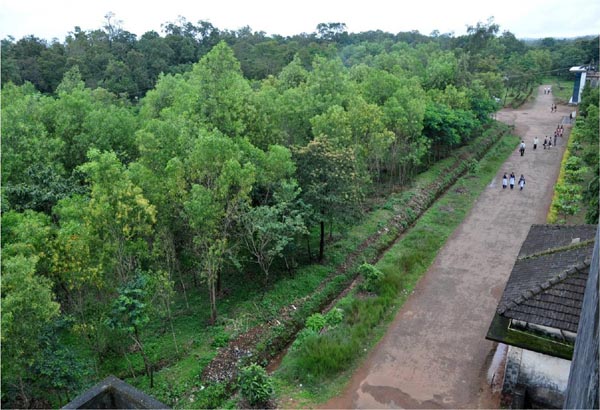 GREEN CAMPUS:
Modern Education Society's M.M. Arts and Science College which lies in the lap of the great Sahyadri is naturally endowed with scenic beauty and a salubrious lush green environment providing stimulating academic ambience in the map of the Uttara Kannada District. It has a unique identity for its socio-economic fabric and rich cultural heritage. However, the people of this taluk were not educationally empowered for higher learning until the Modern Education Society was founded in 1962. This premier educational organization was established with the aim of providing higher education to the aspirant learners of the upper ghat taluks of the Uttara Kannada District. The college campus with its rich vegetation and diversified species of medicinal plants successfully created a harmony between learning process and human elements. The college comprises 6 major buildings designed for optimum day lighting, ventilation and path ways, with ever green trees in the spacious campus. The institute strikes a balance between its promises and practices, raising awareness on how to 'Go Green'. Clean and green programmes. A Green Campus is a place where environmentally friendly practices and education combine to promote sustainable and eco-friendly practices in the campus.
Objectives:
To continuously improve the efficient use of all resources, including energy and water, and to reduce consumption and the amount of waste produced, recovering and recycling waste where possible. To make the campus plastic-free and E-waste free.
Scope of the Policy:
The Green Campus policies will develop exciting new co-curricular and extracurricular practices that encourage students to take the lead in creating positive change. These initiatives call for a thorough review of all infrastructural, administrative functions from the standpoint's sustainability and the environment. The focus areas of this policy are: * Clean Campus Initiatives * Landscaping Initiatives * Clean Air Initiatives * Smoking Free Campus* Plastic-Free Campus. Waste Management processes * Solid Waste Management * Liquid Waste Management * E-Waste Management.
Clean Campus Initiatives of M.M Arts and Science College had pledged to actively coordinate cleanliness activities in the college and beyond the campus in accordance with the vision of Swachh Bharat Abhiyan. It commits to continue with this Programme. The broad vision is as follows: 1. Generating mass awareness on cleanliness and hygiene amongst students and staff members by holding regular cleanliness drives. The idea is to motivate them to contribute in a proactive manner.
2. Activities under 'Swachh Bharat Abhiyan' will be a key component of all the community work being done by NSS, NCC, Rovers and Rangers volunteers of the college.
3. Staff Members will be encouraged to participate in the cleanliness drive in the college campus.
4. Remove all kinds of waste material like broken furniture, unusable equipment etc.
5. Commit to manage waste and maintain clean campus especially during college events
It can be concluded that the green campus is an overall activity in environmental management in order to create a sustainable campus.


* * * * * * * * *